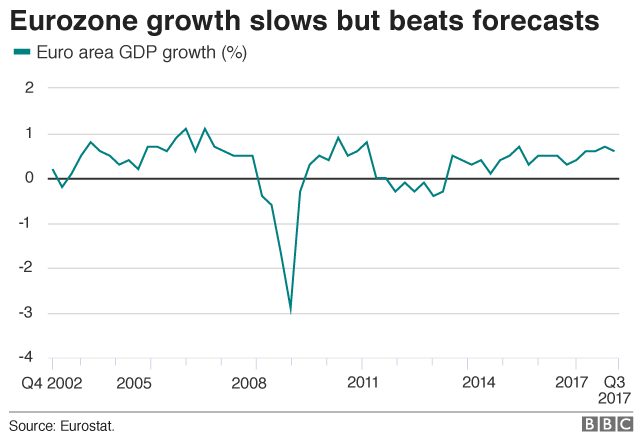 According to BBC Business, the Eurozone's economy grew by 0.6% in the three months to September. This is higher than analysts' expectations, according to EU statistics office Eurostat.
For the past 12 months, the growth rate was 2.5% and last month the European Central Bank (ECB) raised its 2017 growth forecast for the 19-nation Eurozone to 2.2%, the fastest in 10 years. Eurostat also said that Eurozone unemployment was 8.9% in September, the lowest rate for nearly nine years.
Giving credence to the notion that the Eurozone economy is finally gaining ground, not only is the growth deemed positive but a plodding decline in unemployment continues.
Julia Haviland, Brittain's Managing Director said: "The climb in the ECB forecast and the decrease in unemployment are positive indicators of business growth in the UK and the rest of Europe. We look forward to seeing a continued significant return on investment for our valued clients with a view to the UK economy starting to thrive again in 2018."
BBC Business summarises economic growth in Europe:
The estimation that the Eurozone had fallen to 1.4% in October, down from 1.5% in September, puts it well under the 2% inflation target set by the European Central Bank.
In the three months to September, the French economy became the Eurozone's second-biggest economy, growing 0.5%.
This was driven by a combination of higher household consumption and rising investment (INSEE).
Consumer spending in France saw an increase of 0.5% in the third quarter (INSEE).
The French economy saw growth of 0.6% in the second quarter and 0.5% in the first quarter with expectations of 1.8% growth this year.
The Greek economy returned to growth January-March 2017 (Elstat).
Compared with the final quarter of 2016 (when it contracted by 1.1%), GDP increased by 0.4%.
This makes interesting reading when compared to our articles from earlier in 2017, Growth for UK Businesses and Consumer Confidence Signalled for 2017 and What Does the Spring Budget 2017 Mean for UK Business Growth?.